News & reviews covering the world of backpacks, everyday carry, on–the–go tech, and travel written and curated by Keir Whitaker, a UK based carry–on obsessed frequent flyer.
Accessories
Riut Zipped Cable Bags
April 15, 2019
Last year I purchased these two cable bags from Riut and have been happily using them ever since.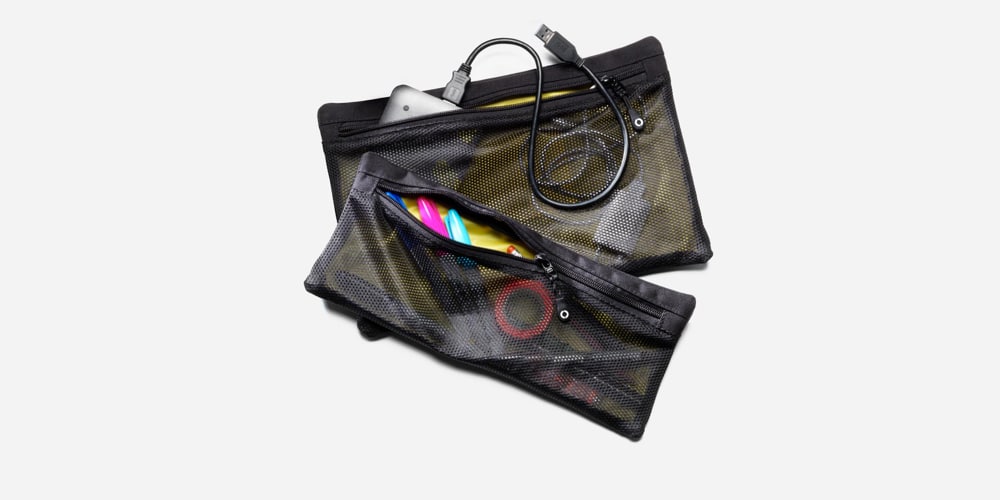 I've tried quite a few tech accessory packs over the last few years and have found most of them to be particularly bulky when carried in a day pack. The benefits of straps, multiple pockets, cable pass throughs are, to me, outweighed by the space they take up.
In need of a packable day pack? Check out the RiutBag Crush — a super light feature rich option also from Riut.
The beauty of these bags is their simplicity — wide, deep, and thanks to the bright yellow interior and see through mesh it's easy to find cables and adapters in a hurry.
Manufacturer: Riut
Colours: Black with yellow interior
Price: £12.00 GBP
Available From: Riut
Materials: Cordura back, mesh front, yellow interior and YKK zippers
Size: Large 30cm x 12cm, Small 30cm x 12cm
The zips are smooth, there's plenty of space in the pocket and they are dispatched very quickly. I use it for cables but the smaller one could double up as a pen(cil) case or receipt wallet for the many bits of paper you collect on your travels.
Recent Leader of the Pack Articles