Backpacks
Carryology's 2018 Carry–On Awards
May 22, 2018
Earlier this month Carryology announced their sixth annual awards contenders. There are categories covering messengers, camera bags, everyday carry, and luggage to name a few but the one that caught my eye was the "Carry-On" cateogry.
Sadly, I don't own any of the contenders but here are the three I would certainly consider from the top ten!
Macheto Travel Pack by Chrome Industries
I've always been a fan of the ubiquitous bike couriers favourite Chrome Messenger bags, complete with their famous quick release strap buckle, but didn't realise that they had ventured into other styles. The Macheto is actually part of the Treadwell Collection which features a briefcase, tote bag, Dopp kit, and duffle.
Manufacturer: Chrome Industries
Colours: Black
Price: $200 USD
Available From: Chrome Industries
Materials: 1680d ballistic nylon
Size: 13.5" Height x 18" Depth x 10"-12" Width
Capacity: 42L–48L
Warranty: "365 to Life"
Features: Hideaway shoulder straps to streamline stowing, two separate compartments for easy access to clothes or gear, external quick access pocket, laptop pocket fits 15" MacBook Pro, multiple carry handles, dual compression straps, YKK Zippers
I'm a big fan of the clamshell style opening and the addition of pockets within the clam covering is a neat feature. As is the norm these days it also features a dedicated laptop pocket as well as multiple strap configurations and handles. This looks like a big pack suitable for a lengthy trip or equally suited to day use if needed. I really like the shape and look of the Macheto and the understated branding is a bonus.
Setout Backpack by Tortuga
The Tortuga Setout is a serious piece of kit and very appealing for those of us who like the one-bag approach to travel. Billed as "The maximum-sized carry on for city travellers" this is another clamshell opening backpack, a theme is emerging, and features a refreshingly bright white interior. There's plenty of room for your clothes (specially shaped packing cubes are available) and it features a wealth of pockets, a dedicated laptop opening, and a side sleeve for your water bottle. As with many other backpacks, the straps can be hidden at will depending on your needs.
Manufacturer: Tortuga
Colours: Grey
Price: $199 USD
Available From: Tortuga
Materials: 900D heathered polyester
Size: 22" Height x 14" Depth x 9" Width
Capacity: 45L
Warranty: The Tortuga warranty guarantees against defects in materials and craftsmanship for as long as you own the product
Features: Carry on sized, front loading, padded, removable hip belt, laptop and tablet sleeves, hideaway shoulder straps, weather resistant, organization pockets, lockable zippers, lie-flat water bottle pocket, YKK zippers, duraflex buckles
I'm a big fan of Tortuga and find their approach to business really interesting. They don't appear to have returned "behind the mics" for a while but their podcast "Power Trip" is well worth a listen and strongly recommend subscribing to their blog which is full of travel hints and tips.
Allpa 35L Travel Pack by Cotopaxi
A while ago I ended up on the Cotopaxi site and bought a great little packable tote and have been returning to check out new offerings. Cotopaxi is a Certified B-Corp and gives 2% of our revenue to alleviate poverty — you can read more about this on their site. Like the other two packs mentioned here the Allpa opens in the suitcase style and features one large and three smaller compartments for clothes and other items. There's also padded easy access laptop sleeves and other nice touches like anti-theft zipper locks and a range of accessories that you can embellish the pack with (the water bottle holder, shoe and laundry bag are an additional $10 at the time of ordering).
As well as coming in black, always my preference, Cotopaxi offer the Allpa in a predominantly blue design — if you are a fan of colour you'll love many of their other packs.
Manufacturer: Cotopaxi
Colours: Black, Blue
Price: $169.95 USD
Available From: Cotopaxi
Materials: TPU-coated 1000D polyester and 1680D ballistic nylon paneling
Size: 20" Height x 12" Depth x 8" Width
Capacity: 35L
Warranty: All our products are "Guaranteed For Good"
Features: Weight-distributing, low-profile harness system, suitcase-style, full-wrap zipper opening on the main compartment, large zippered mesh compartment on the right side, subdivided zippered mesh compartment on the left side, padded laptop and tablet sleeve, shortcut zipper to main compartment, top zippered pocket, security YKK zippers, carabiner lash loops, tuck-away straps, 4 reinforced grab handles, included rain cover
If you are after a smaller travel pack this could be perfect for you. Throw in the packable Batac Del Día and you've got a multi-purpose travel system ready for the road.
Update — 8th June 2018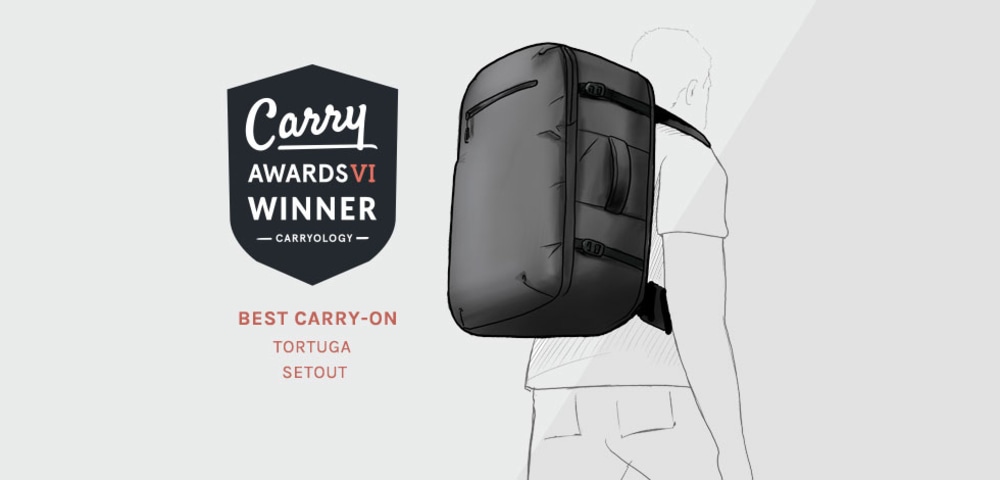 The winner has been announced and it happened to be one I featured here. Congratulations to everyone at Tortuga!
Recent Leader of the Pack Articles