Backpacks
The Peak Design Everyday Backpack
November 08, 2018
Peak Design may be familiar to many of you already. Perhaps you know them from Kickstarter where they have run many successful campaigns. In fact, they recently they completed their eighth which closed with almost 14,000 backers pledging over $5 million USD for their soon to be shipped Travel Line range.
I have my good friend and professional photographer Greg to thank for my own introduction. Some months ago he pitched up at a conference I was attending sporting the bag I am reviewing here.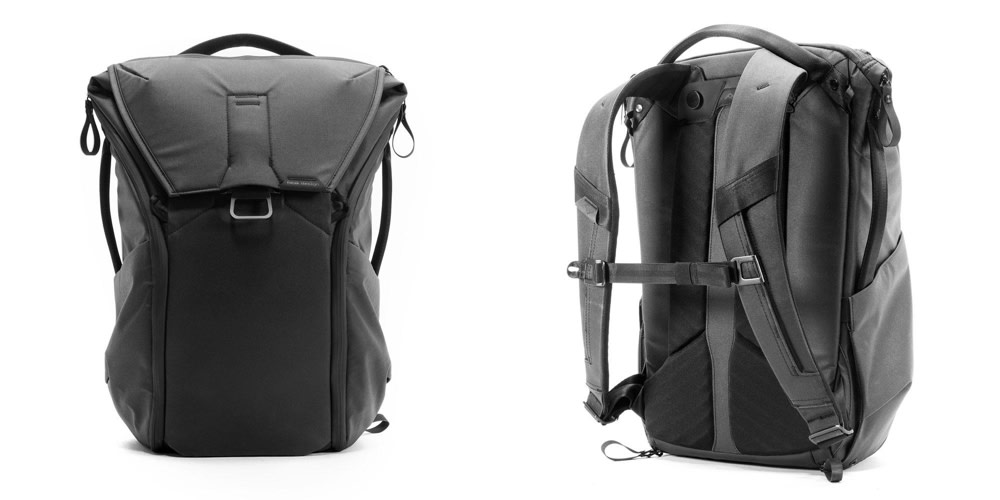 Greg travels the world with his camera and couldn't stop espousing the benefits of the Everyday Backpack. A few weeks later whilst in London, for work, Michael pitched up for breakfast carrying the same pack and waxed lyrical on his love for it too (you can read more from Michael below). There had to be something special about this bag!
First Impressions
After pulling the pack out of it's branded packaging the first thing I noticed was the quality, well, of everything. The zips, the pulls, the latches, and the materials are well above your average purchase and go a long way to justifying the price. This bag is an investment but one you'll be happy to make.
This pack is a beautifully constructed piece of work. Its light 400D nylon canvas gives a relatively fixed look to the bag but given that you'll easily fill the 20 litres (it's also available in a 30-litre version for $289.95 USD) with your kit it's not an issue.
While you could easily use this for a couple of nights away it's designed for everyday use, the clue, as they say, is in the name! It's worth noting that this pack can expand by a further eight litres thanks to the MagLatch closure system which I'll look at later.
Manufacturer: Peak Design
Colours: Black, Ash, Charcoal, and Tan
Price: $259.95 USD
Available From: Peak Design
Materials: Ultralight 400D nylon canvas with DWR coating, poly-spun mixed twill interior, compression-moulded high-density EVA foam dividers, die-cast and stamped anodized aluminium hardware
Size: 15" x 9.75" x 1" (38x25x2.5cm)
Capacity: 20L
Weight (Empty): 1.81KG
Warranty: Lifetime
Features: Flex-Fold internal divider system, inner side panel pockets, laptop and tablet sleeves, magnetic top slip pocket for small items, key tether, MagLatch closure system, external carry straps, eight litres of extra expansion, camera tripod and water bottle external pockets, dual side access, tuck away waist straps, and waterproof shell
Exterior
As I came to discover there's plenty of features in this bag but the aesthetic is clean, tidy, and discreet. I spent days with the pack and constantly came across hidden pockets or features that weren't initially apparent. That's not to say that Peak Design hide them away — their web site features numerous videos explaining all the little nuances of the pack and it comes with a handy guide to help you along.
Find out why 13,752 Kickstarter backers pledged $5,206,611 USD to help bring Peak Design's most recent Kickstarter campaign for their 40 litre Travel Line backpack to life
External Pockets
As mentioned earlier the exterior of the bag is very clean and on first impressions, it looks quite simple. However, closer inspection reveals a raft of features including dual side pockets ideal for water bottles and tripods, comfortable carry handles on three sides of the pack, numerous loops for attachments and a handy key tether.
Harness for Outside Carry
Hidden away under a front panel and in the side pockets is a clever harness system that allows you to extend the carry options available to you. The straps hidden in the side pockets can be used for securing larger items, e.g. a tripod, or deployed across the bag in conjunction with the two straps stored under the front panel to hold things like a sleeping bag. Have a look at the video below to see it in action.
Easy & Quick Access
The main compartment of the bag is accessible in three ways — firstly via the MagLatch fastened top opening and secondly via either side panel, both of which feature full access via their zippers. The MagLatch system took me a few minutes to get used to but once mastered you'll wonder why it was ever a problem. The zippers are smooth and also feature a theft deterrent lock that will stop unscrupulous people unzipping your pack and taking your content.
The bag oozes thoughtful design from every hidden pocket, and each feature feels considered and genuinely useful. I was looking for a bag that would be equally as effective at carrying my lenses on a trip as taking my laptop to a meeting, and this definitely covers it. Plus, it's made to last. I'm now two years in and, aside from some very light wear, it looks almost brand new. — Michael Shannon
Straps
The back of the pack features, as you would expect, the main carry straps. It sits very comfortably on your back and thanks to a clever quick release/tighten system adjusting the straps with the pack in place is ridiculously easy. The padding also doubles as a luggage pass-through should you wish to use this in conjunction with a roller style suitcase.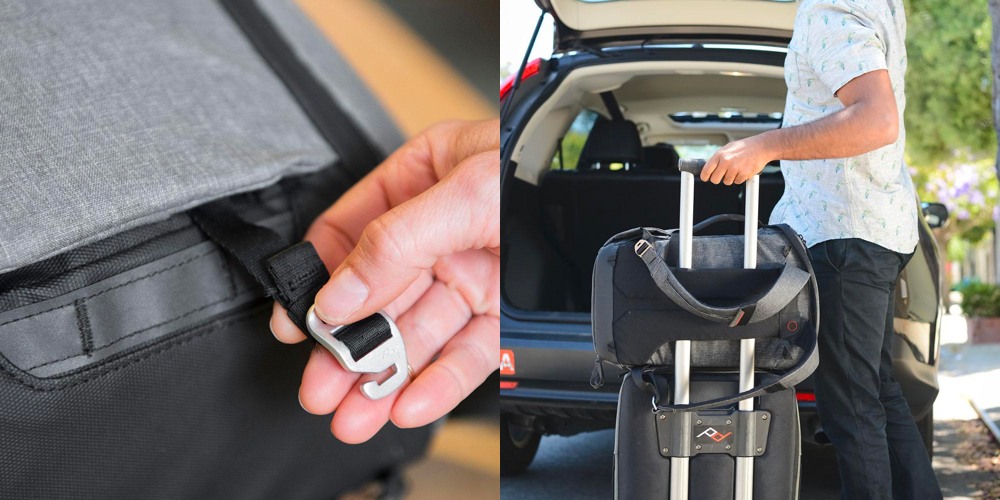 As I keep mentioning there are many details that you don't initially notice so it's well worth watching the videos and reading the little instructional leaflet that comes with the bag to get the most from it.
Inside
It would be easy to think all the innovation is on the outside — after all inside it's just a big cavernous space for all your kit, right? Wrong — there are plenty more ingenious features to wrap your head around once you open it up.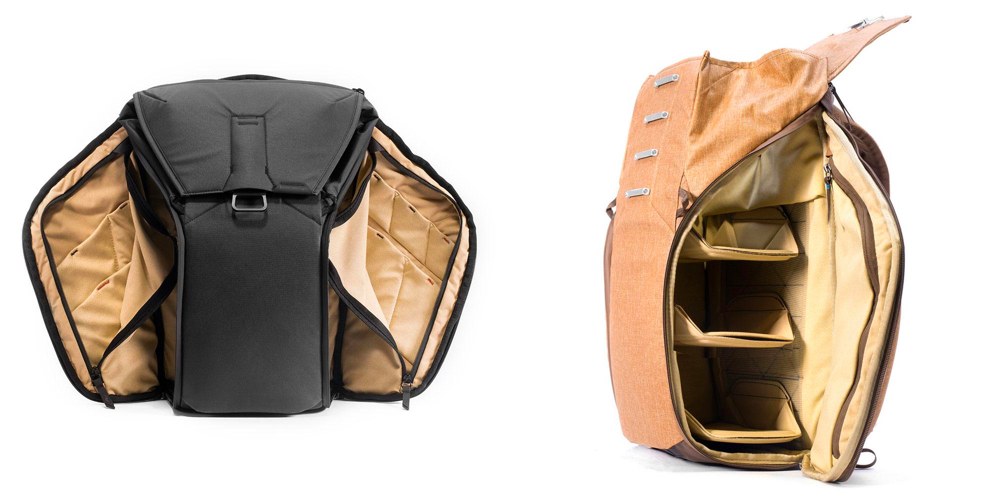 Pockets for Everything
Both side panel flaps feature a hidden pocket that's ideal for cables, pens, chargers, and other items you don't need quick access to. The pockets are made from flexible material meaning you don't have to force items in place which is nice.
FlexFold
The main compartment comes with three FlexFold™ dividers. These clever additions allow you to create numerous configurations depending on your needs. These are ideal for photographers as they not only keep each, very expensive, piece of kit protected but also make accessing the right item at the right time very easy. The dividers can also be manipulated to allow it to be the full, or half, width of the main compartment. The dividers are attached using velcro making them secure and easy to rearrange.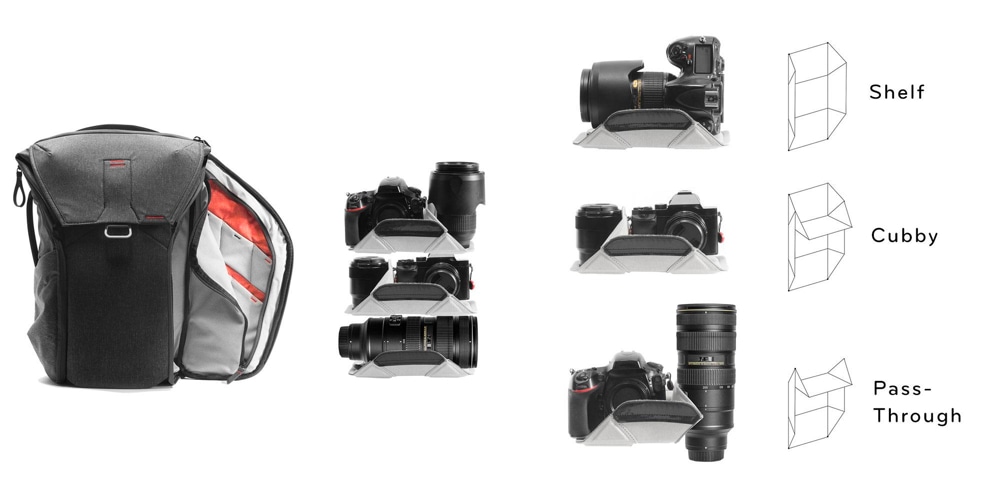 There's also a handy little, and again discreet, magnetic closing pocket inside the top opening — ideal for travel related cards and/or wallet.
Laptops & Tablets
At the top of the bag, above the staps, you'll find the laptop and tablet compartment. It's been designed to carry up to a 15 inch MacBook Pro Retina (2009 or later). My 13 inch MacBook slips nicely in with room to spare but still feels very secure. You can access this pocket without needing to open the main compartment!
There's also another pocket in this section that is ideal for a notebook (of the paper kind) and/or a tablet. This section also features a neat little top pocket ideal for your phone, pocket change, and other items needed in a hurry.
Conclusion
The Everyday Backpack is clearly an investment but, as mentioned earlier, a very worthwhile one. The more people I meet with this particular pack the more I realise why people like it. It's incredibly well made, has features that you didn't know you need but come to love quickly, is exceedingly comfortable to carry, and is incredibly versatile. The pack also comes in a 30-litre version which I suspect would work well for more than a couple of days on the road.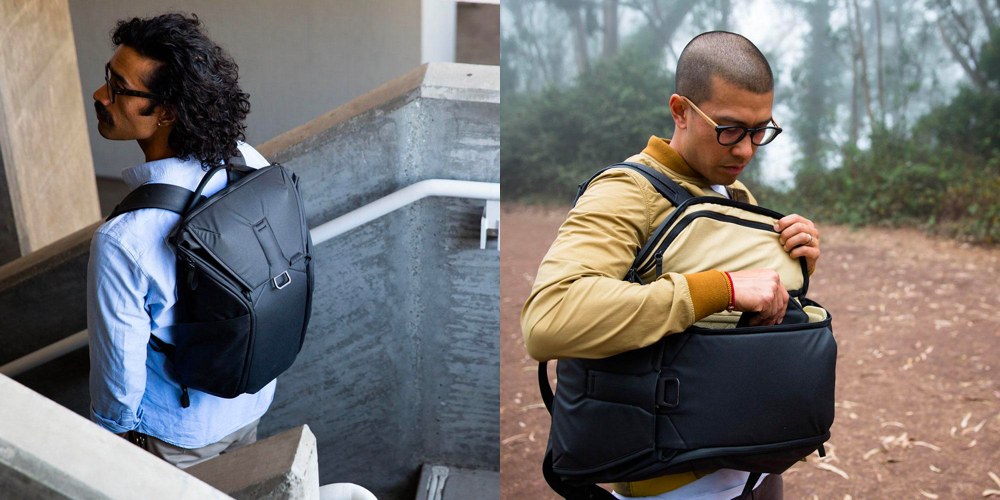 My only criticism, if I may, is that I wasn't initially a huge fan of the stiff material but after using the pack for a couple of weeks I revised my opinion. It's stiff for a reason and definitely keeps the contents safe, secure, and well-protected — especially if, as intended, you are using this for your highly precious camera kit.
Peak Design do a huge range of products and it's well worth checking out their other offerings on their web site. Go spend some money!
Many thanks to Peak Design who kindly provided me with a 20 litre black Everyday Backpack for review.
Recent Leader of the Pack Articles