Backpacks
Tortuga Setout Packable Daypack
April 13, 2019
I've admired Tortuga for a long time. Last year I decided to buy their Setout Packable Daypack after my good friend Marc's recommendation.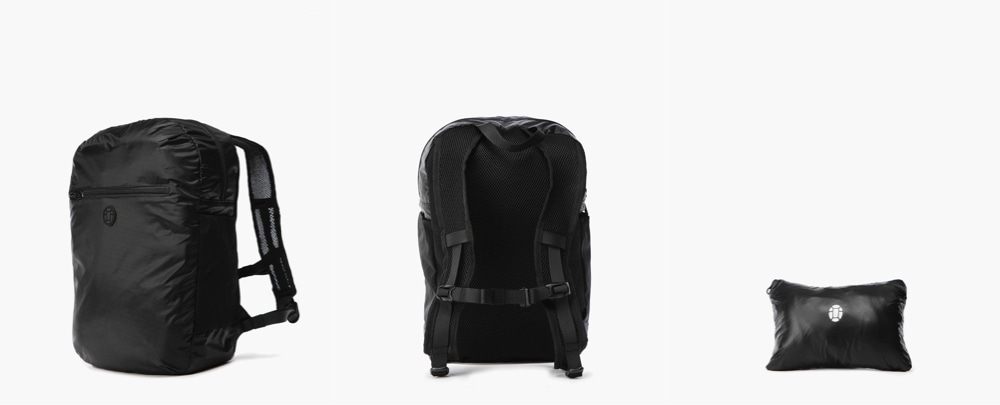 I'm a huge advocate of bag–in–bag travel and have many pack flat totes that I can throw in my carry–on at a moments notice but this was the first packable backpack in my collection. I've not been disappointed, especially as this retails for only $39 USD.
Low Cost High Quality
I'll be honest, for the price my expectaiton for a solid but functional pack wasn't sky high. However I have happily been proven wrong — the Setout Packable Daypack is not only a very well made, functional, and useful daypack it's ridiculous value to boot.
Daily Use
I've used the Setout on numerous trips over the last year and have been massively impressed. The straps and back panel are both very comfortable and the size is perfect for a days essentials. While you won't have the extra padding and rigigity of other daypacks I haven't once felt that the contents were at risk. That said, I always pack my laptop in a protective case regardless of the bag I put it in for added peace of mind.
Zips are smooth and robust and there's pockets for small items and water bottles too. I'm efusive for a reason, it's a really great pack.
Manufacturer: Tortuga
Colours: Black
Price: $39 USD
Available From: Tortuga
Materials: 30D ripstop nylon, durable water repellent (DWR) coating
Size: Bag: 17.5" x 11.5" x 5″, Pouch: 7" x 5" x 2.5"
Capacity: 19 litres
Weight: 8.5 oz (0.53 lbs)
Warranty: "Common Decency Guarantee — If something is wrong and is our fault, we will make it right"
Features: Packs down to a pouch, lockable YKK zippers, zippered front compartment, water bottle pockets, removable sternum strap
From Pack to Pouch
The transformation from pack to packed is pretty striaghtforward. Step one involves turning the front pocket inside out. Step to is literally stuffing the bag into the pocket, moving the zipper round and closing it. A big slap to flatten it out is all it usually takes to create the perfect packed pouch.
You can of course be a bit more methodical about it, should the mood take!
Outside US Shipping
Sadly Tortuga products are not currently available in Europe as the company stopped accepting international (non-US) orders after December 31, 2018. Hopefully, new shipping services will be finalised soon.
Recent Leader of the Pack Articles