Backpacks
The Y Travel Backpack
June 04, 2018
At the time of writing this Kickstarter backpack had raised over 200% of its initial goal of, a very modest, £4,000. It's developed by Olivier and Yann — kitesurfers whose love of off beaten tracks led them to develop a simple, strong, unbranded, and water-resistant pack. The money raised on this campaign will allow them to bulk produce the Y backpack and fund development of a duffle and day backpack.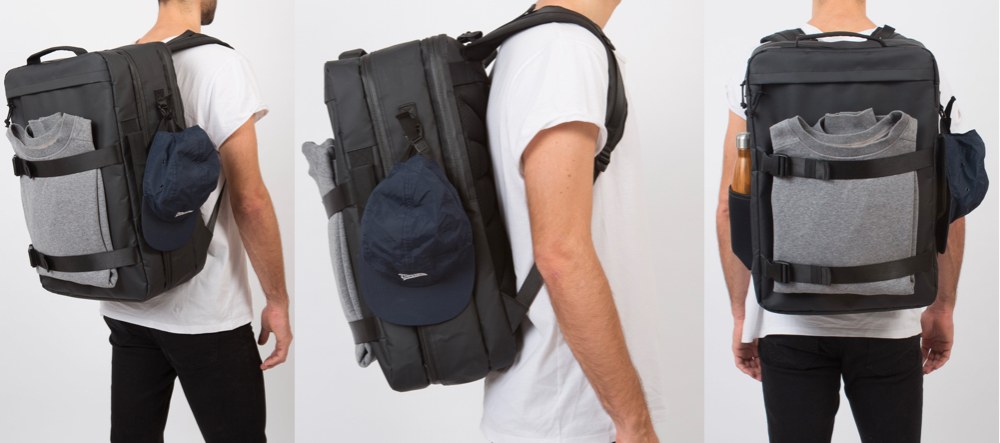 Like many of the recent backpacks I have reviewed the Y opens like a suitcase with one side having the addition of a zippable mesh cover. Although I have yet to see the bag in the flesh its 40-litre capacity suggests it's more than spacious enough for a few days away and with measurements of 54cm x 38cm x 22cm means it will fit most airline carry-on requirements.
Manufacturer: Y Bags
Colours: Matte black
Price: £70 and upwards depending on reward + shipping (£8–£20)
Available From: Kickstarter
Materials: PVC tarpaulin, YKK water-resistant zippers
Size: Length 54cm x Width 38cm x Depth 22cm (fits most carry-on requirements)
Capacity: 40 Litres
Features: Suitcase style opening, laptop compartment (up to 17"), no branding, skateboard inspired compression straps, outside bottle pocket, front pocket for passports, phones and wallets,
In addition to the two main compartments, there's a slot on the back of the pack for a laptop (up to 17") as well as other everyday items like notebooks and keys. Externally there's a bottle holder, a zippered full-length pocket ideal for magazines and two compression straps allowing you to secure items to the pack externally.

Unlike other packs, this is definitely a backpack and doesn't have the option of hiding straps and converting into a messenger or briefcase but I like that. Often those additions add weight and if you have no intention of using these features then why bother. I'm also a big fan of unbranded luggage and this definitely ticks that box.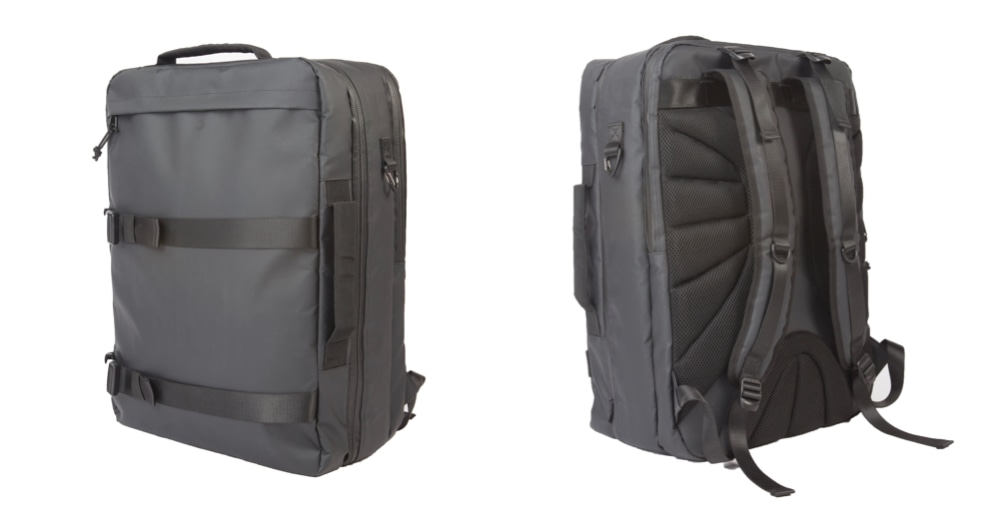 Finally, it's worth mentioning the introduction pledge is a mere £70. This looks like a great value pack and definitely worth considering if you are in the market for one today. The campaign is funded and closes on Monday, July 9, 2018.
On a side note, if you are Olivier and Yann are reading this I'd love to chat with you — I tried to find contact details on the Kickstarter page and your website but couldn't see any :)
Recent Leader of the Pack Articles